Maximize Flexibility with Expanded Substrate Options
Brilliance, the world's first high-performance olefin elastic attachment adhesive, can eliminate many of the production challenges your business faces daily. One of these challenges is adaptability. As your customers demand that their disposable hygiene products grow ever thinner, softer, and more dependable, you need the agility to take advantage of new materials to keep you competitive. The challenge is that these materials can create operational headaches. Brilliance's unique formulation gives you the flexibility to use the substrates you want while enhancing your operations.
Go thinner or softer | Boost bond performance
Newer – often less expensive, thinner, or even softer – substrates can enhance performance and profitability. But, if your adhesive doesn't adhere to them, your product suffers. Brilliance is uniquely designed – and proven – to adhere to a widely expanded variety of substrates. You can easily switch to lower basis weights and thinner or softer substrates without the inconvenience of burnthrough or decreased bond performance.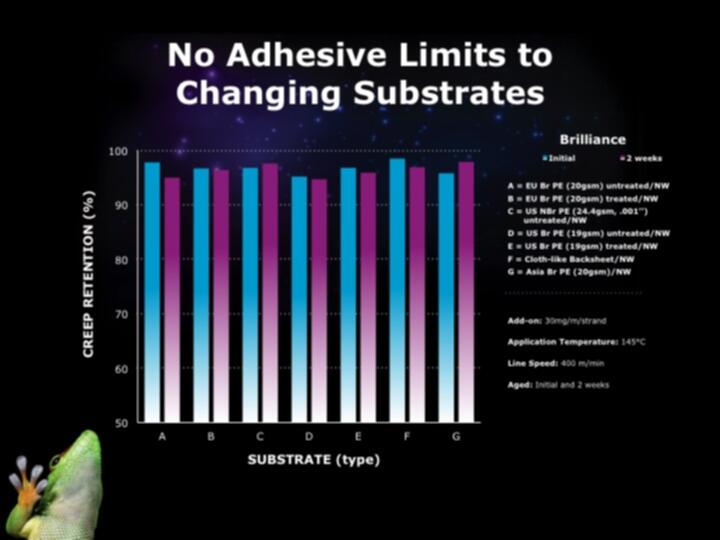 Brilliance is proven to reduce or eliminate bleedthrough, which requires the need for frequent line clean-up. With the ability to consistently produce clean, precise patterns and maintain creep and shear, you enhance product performance and reduce downtime. See the proof for yourself.
Find out how Brilliance can expand your flexibility, improve performance, and strengthen operational efficiencies. Talk to us.
Keep Reading
Find out why powerful creep and shear performance are vital in elastic attachment adhesives.