Apr 22, 2016 - 10 min
HOUSEHOLD APPLIANCES MARKET TRENDS
Consumer preferences are driving the latest trends in the global household appliances market. Since appliances are a daily part of modern life, let's take a look why people are purchasing them:
Energy efficiency continues to be at the forefront of purchase decisions, as consumers seek to save money and reduce their impact on the environment. In 2014, the U.S. Environmental Protection Agency released new ENERGY STAR standards requiring appliances to meet certain technical efficiency standards.
For laundry appliances in particular, Euromonitor International cites that if all dryers achieve ENERGY STAR verification, the U.S. will save over $1.5 billion on utility bills and dramatically decrease greenhouse gas emissions.
As of 2016, most major brands offer ENERGY STAR products. Additionally, to encourage energy-efficient appliance purchases, federal and state governments offer stimulus programs to consumers.
As the economy strengthens and house prices recover, more people are opting to make discretionary home improvements that otherwise would have been deferred in uncertain economic times. These include updating kitchens and bathrooms with new appliances, countertops and fixtures.
According to Mintel, between 2010 and 2015, sales of U.S. household appliances for home renovation projects grew 12% to reach $36.5 million. This year's sales are expected to increase a further 6% to $38.7 million.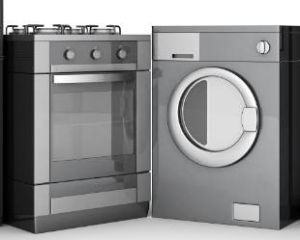 TECHNOLOGICAL INNOVATIONS
Gadget-loving consumers are attracted to appliances that offer new features. Mintel also cites that 37% of appliance purchasers got rid of their old appliance and bought a new one simply because of its features.
Fortune cites the newest appliance innovations that are getting the most attention.
ADHESIVES FOR THE HOUSEHOLD APPLIANCES MARKET
As demand for new and improved appliances grows, Bostik's smart adhesives are able to keep up with the market. Our company has a large presence in the household appliances market, offering adhesives for applications including refrigerators, freezers, washers, dryers, ranges and air conditioners.
Stay tuned for Bostik's upcoming post on our extensive product line for the household appliances market.
For more information, call 800-7-BOSTIK. Bostik is also on Facebook (Bostik Industrial) and Twitter (Bostik_IND).