10/14/2020 - 10 min
Floor Marking Tape: Key Application and Performance Criteria You Need to Know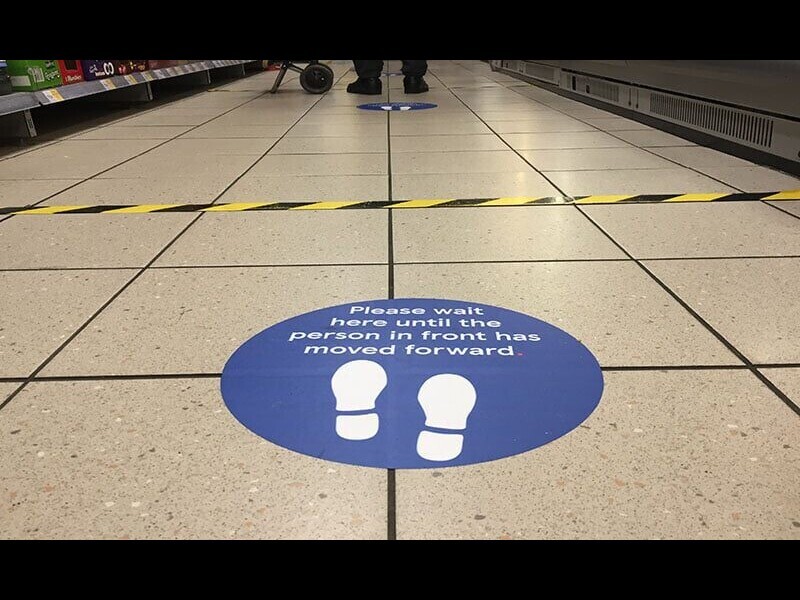 Floor marking tape gives important directions to the general public about distancing and safety. Therefore, it's a good idea to not only ensure that you can keep up with the increasing demand for floor marking tape, but also that your product will meet quality standards. Learn about application requirements and key performance criteria for your floor marking tape products. Plus, see how one adhesive in particular can add value to your end-use tape.
FLOOR MARKING TAPE PERFORMANCE CRITERIA
Prior to constructing your floor marking tape, consider its end-use performance requirements. Your end-use tape should meet the following criteria for ideal performance:
Customizable: You want your tape to be able to allow for graphics or printing that may be featured on the surface.
Durable: Your tape should be able withstand heavy foot traffic while still effectively communicating a safety message. This is especially important for tapes that will be used in populated areas.
Versatile: Your product may be used on various surfaces, including tile, carpet or asphalt, so it should maintain performance in a variety of environments. Some surfaces may be clean, dirty or shiny, so make sure your product is able to bond to contaminated surfaces.
Using the right tape backings and adhesives can help you meet the performance criteria listed above. Learn about common types of floor marking tape backings and adhesives that may be right for your product.
COMMON FLOOR MARKING TAPE BACKINGS
Different types of backings work best for different types of applications. Cloth and polyethylene backings are highly durable and can be removed easily if needed. This material may be your best choice if your product will be used in areas with high-traffic or machinery.
Another option is PVC film backing, which is cost-effective and comes in a variety of colors. If you're looking for a material to suit a specific design aesthetic, PVC film backing may be best for you.
Your choice in backing may influence your options for a floor marking tape adhesive. Below, you'll find aspects to consider when choosing your adhesive component.
ITEMS TO CONSIDER WHEN CHOOSING A FLOOR MARKING TAPE ADHESIVE
Adhesives play an important role in the floor marking tape's ability to meet end-use performance needs. When constructing the tape, it's also a good idea to ensure you choose an adhesive that meets requirements best suited for particular end-use applications.
Application temperature range: Different adhesives have different temperature ranges. Make sure your adhesive is able to withstand temperatures for the end-use application. If the application requires a wide temperature range, the adhesive should be able to maintain performance within that range.
Compatibility with your tape's backing: Ensure your adhesive will adhere to the backing you've selected. When these components are not compatible, it may produce a weakened bond, resulting in poor functionality.
Sufficient adhesion for end-use exposure: Consider the conditions your product will be exposed to in its end-use environment. High foot traffic, shiny floors, asphalt and other factors can influence the adhesive's performance, so it's important to understand where your product will be used when picking the adhesive component.
High cohesion properties: If your product will come into contact with heavy foot traffic or heavy machinery, deformation may occur. Choosing an adhesive that can resist deformation will help ensure your product can withstand these factors.
Clean removal: Some floor marking tape applications require the tape to be easily removed after use. If this is a requirement for your product's end-use, you want to choose an adhesive that will not leave residue behind.
With so much to consider, it's important to be selective when choosing your floor marking tape adhesive. Bostik offers a solution that can alleviate worry about your adhesive selection process, and meet your product's end-use needs.
WHY YOU SHOULD CHOOSE THERMOGRIP® 20060
Bostik's Thermogrip 20060 is a hot melt pressure sensitive adhesive. It offers several benefits that make it excellent for floor marking tape applications:
Application flexibility: Our product can be applied at high and low temperatures and in winter and summer months. This means the adhesive will maintain performance year-round in many different climates.
Backing compatibility: Thermogrip 20060 can be used with 80% of floor marking tape backings in the market, so it can easily accommodate your desired end-use materials.
High end-use performance: This product offers strong adhesion and highly cohesive properties, making it a durable solution for a variety of environments.
Flexible end usage: With the right backing and adhesive thickness, our product can be designed to be removed cleanly from a surface.
Interested in learning more about what Thermogrip 20060 could add to your floor marking tape? Contact a Bostik representative today to learn about what this product could do for you.
You can also learn more with this relevant content: