10/19/2021 - 10 min
How Adhesives Can Move the Electric Bus Market Forward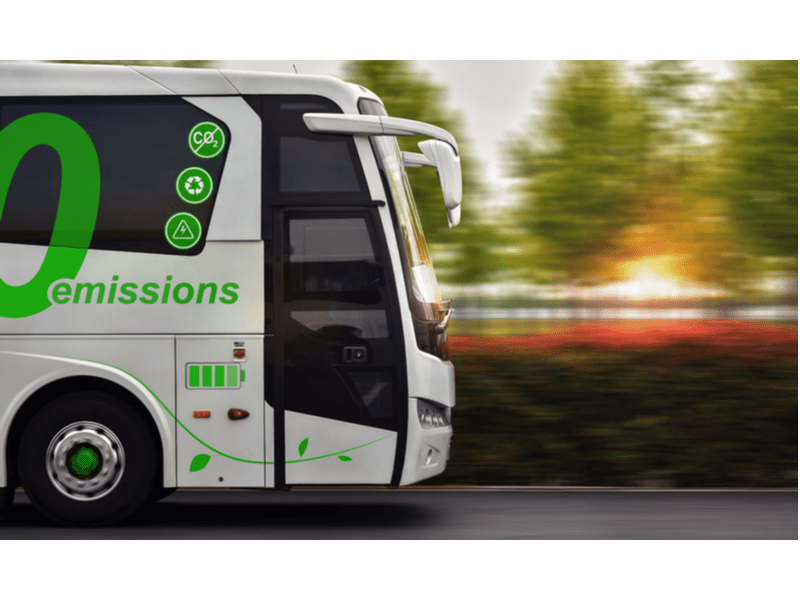 As the world searches for more sustainable ways to develop transportation vehicles, electric buses are making significant strides. According to a report by Mordor Intelligence, the bus market is projected to see around $20 billion increase by 2026. This growing trend creates numerous challenges for manufacturers in switching to electric bus manufacturing. However, adhesives can provide solutions to ease the changes.
Why Electric Buses are Gaining Popularity
The demand for electric buses is expected to continue growing around the world due to urbanization and governmental initiatives to connect rural areas to cities. In the U.S., increases in emissions laws and regulations are anticipated to lead to market growth. California has the highest number of zero-emission buses and electric buses in use, and many other cities around the country are pushing for a percentage of every bus fleet to become electric or hybrid. The demand for electric buses is beginning to surpass the production rate. Some of the reasons electric buses are selling so fast include:
Savings on fuel costs: Researchers have found for every two electric buses in a fleet, bus companies can save $24,000 in annual gas expenses compared to fuel engine buses. With fuel costs increasing, electric buses help reduce public transportation costs for owners or cities. By 2030, it's expected prices for electric buses will reduce and become equal to diesel fuel buses.
Less maintenance: Electric buses can help reduce up to 83 percent of the maintenance and operating costs compared to diesel engine buses. Less vibrations during operation helps the longevity in electric buses, which also reduces expenses to keep buses running efficiently.
More comfort: NVH levels in electric buses are minimal compared to traditional diesel buses, providing more comfort to passengers. Manufacturers have the ability to design electric buses for various needs including cities, campuses, charters or sightseeing. They can also include WiFi on board for passengers.
Continued sustainability efforts: Electric buses yield zero carbon emissions. With the increase of public transportation in cities, these buses help cities keep their carbon footprint down, while also lowering the amount of single-driver traffic on roadways.
Advancing the transportation industry with electric buses, however, brings on new challenges. Before manufacturers and bus companies can take advantage of the opportunities with electric buses, they must implement new infrastructure such as charging stations and redesigned bus depots. IT systems must also be updated for monitoring bus operations, and drivers will need additional training.
Benefits of Adhesives in Electric Bus Manufacturing
As manufacturers develop new ways to meet the demand of electric buses, sealants and structural adhesives can provide a number of benefits to successfully complete mass production requirements.
Where Sealants are Used in Electric Buses
Sealants can be utilized for numerous bonding requirements. They can significantly reduce production time for sealing bus windows, paneling, floors and destination signs. Sealant applications can be particularly useful for battery manufacturing in electric buses.
How Sealants Benefit Electric Bus Applications
In order to provide a successful seal, the sealant must handle being exposed to various conditions, including thermal cycling, thermal shock, humidity, oils and coolants, as well as mechanical forces such as vibration or compression. For example, sealants are used in the assembly of the battery case enclosure. They can help lower the risks of moisture intrusion or chemical leakages, preventing the inside of the battery from exposure to the environment. This helps extend the battery life, and lower the chances of added bus maintenance costs.
Where Structural Adhesives are Used in Electric Buses
Methyl methacrylate (MMA) structural adhesives provide a number of opportunities to help manufacturing processes of electric buses. These adhesives can help with side panels, wheel houses, seating, as well as the driver area and luggage racks.
How Structural Adhesives Benefit Electric Bus Applications
MMAs have increased flexibility and can be applied vertically without sagging. This adhesive is also very resistant to water and weathering, and does not require a lot of surface preparation before application. This can provide manufacturers a faster, affordable production. MMAs improve end-use product performance levels while increasing durability and longevity, and have the ability to bond to a variety of substrates.
How Adhesives Help Meet Electric Bus Trends
An efficient production process is crucial for electric bus manufacturers. Both sealants and structural adhesives can provide strong, safe and reliable bonding, while also saving production time and money. These adhesive solutions can help OEMs meet the following demands for electric buses:
Sustainability: Both sealants and structural adhesives can aid in sustainable manufacturing processes. These options have the ability to decrease energy usage by curing at room temperature, improve fuel efficiency as a lightweight bonding solution and reduce material usage with elongation and elasticity.
Environmental Resistance: Electric bus manufacturers require adhesive technologies that can work against various wind and precipitation conditions across different environmental regions. Sealants and structural adhesives offer strong UV and high temperature resistance.
Compatibility: sealants and structural adhesives can be used on many components of electric bus production, including side and floor paneling, wheel houses, windows and sealings, driver area and luggage racks.
Load-bearing: Both sealants and structural adhesives are lightweight to help with vibration and sound damping, while requiring little to no surface preparation. They provide both strong bonding and easy handling.
As manufacturers find more ways to increase production for electric buses, fifty percent of them are already using Bostik's adhesive technologies. Contact a Bostik representative today to learn how we can help with your electric bus applications.
More content relative to this topic:
How Electric Double Decker Buses are Changing the U.S. Bus Market
Electric Bus Market Growth and Potential Challenges
Three Ways Structural Adhesives Can Set You Apart From the Competition