Apr 21, 2021 - 10 min
Address Sustainability Challenges With Compostable Hot Cups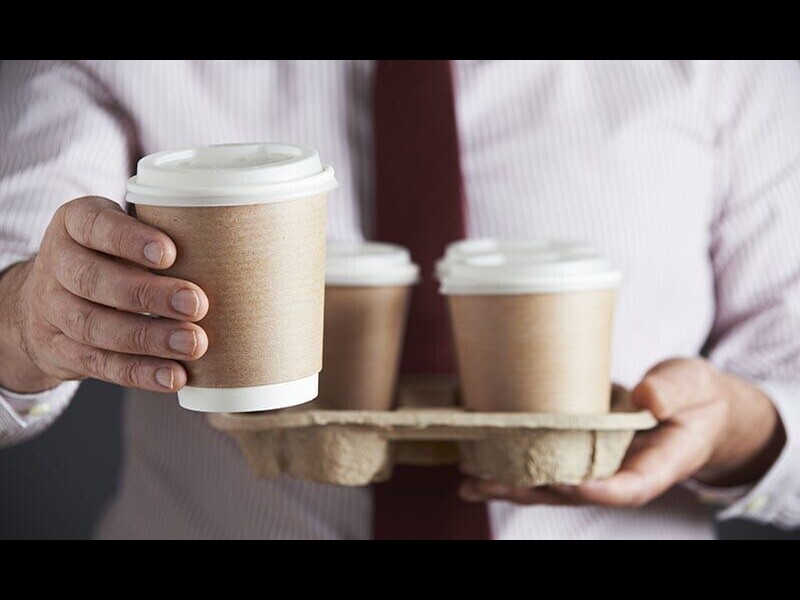 Hot cups and sleeves offer consumers convenient, disposable solutions when ordering hot drinks. However, they contribute to landfill waste; studies show that in the US alone, over 50 billion cups end up in landfills every year. To address this, many companies are interested in sustainability initiatives to improve the hot cups and sleeves' lifecycle but have encountered challenges due to:
Limitations in sustainable end-of-life capabilities
Evolving sanitation standards
Concerns for consumer comfort
Fortunately, more material options are now available to help you create 100% compostable hot cups and sleeves. Learn how these materials can help address sustainability challenges.
Challenge #1: Limitations in Sustainable End-of-Life Capabilities
In the past, hot cups were made from foam. However, many countries have banned this material for single-use packaging, because it is not recyclable, produces toxic carcinogens and is a source of litter. Due to this ban, most hot cups are now made from paper. While paper cups are non-toxic, they also have unsustainable characteristics. For instance, in the US alone, 6.5 million trees are cut down every year to produce paper cups and sleeves, contributing to carbon emissions. Paper hot cups are also lined with plastic for waterproofing, limiting recyclability. In fact, only three paper recycling plants in the U.S. can process this plastic-coated paper so most cups end up in landfills. The sleeves also add to landfills, contributing 2.8 billion pounds of cardboard waste each year in the US.
How Compostable Materials Can Help
Using compostable materials for hot cups and sleeves can improve their sustainable end-of-life capabilities. This is because all compostable materials must first pass BPI certification to guarantee that they will decompose in a set timeframe, helping to reduce landfill waste. They are typically made from plant materials that are by-products of other manufacturing processes. This means they are non-toxic and help decrease carbon emissions. Once decomposed, they can also enrich soils to improve plant growth. For hot cups, this means that even the waterproof lining is compostable, enabling a sustainable end of life process. The sleeves can also fully decompose to reduce cardboard waste.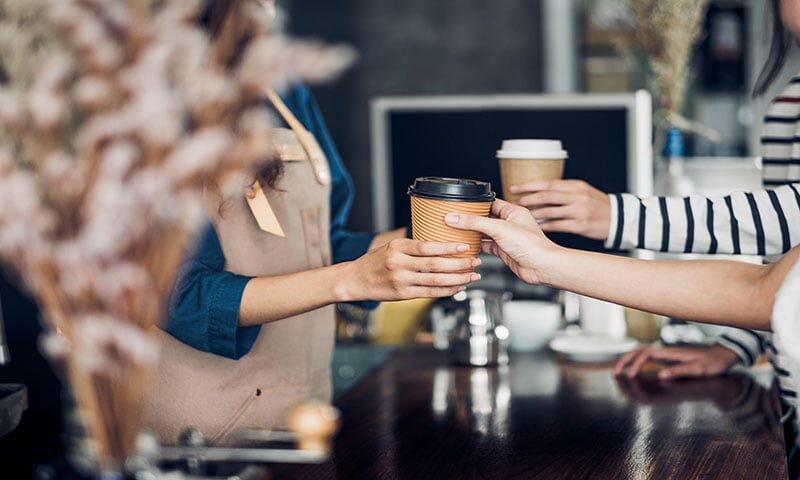 Challenge #2: Evolving Sanitation Standards
Some restaurants encouraged consumers to bring in their own reusable cups to be filled upon ordering hot drinks. This initiative was aimed at eliminating hot cup waste and popular for many years. However, recent changes in sanitation standards have caused a ban on the use of reusable cups when purchasing hot beverages in many places to reduce the spread of germs onto restaurant equipment. This ban keeps consumers safe, but it also increases hot cup waste.
How Compostable Materials Can Help
Since compostable materials completely break down after disposal, they can keep hot cup and sleeve waste out of landfills.When you manufacture compostable hot cups and sleeves, you can help restaurants meet their sanitation needs and address sustainability desires at the same time.
Challenge #3: Concerns for Consumer Comfort
While most hot cup sustainability initiatives focus on the cup components, hot cup sleeves also contribute to landfill waste; 40 million hot cup sleeves end up in landfills every day in the US. A simple answer to this challenge would be to omit the hot cup sleeve entirely. However, these sleeves enhance consumer comfort; they provide a cool barrier between the hot cup and the consumers' hand and add insulation to the hot drink.
How Compostable Materials Can Help
Fortunately, creating compostable hot cup sleeves can address both consumer comfort needs and sustainability measures. The compostable materials will allow the sleeves to break down completely, so they will not end up in a landfill.
How Bostik Helps You Make Compostable Hot Cups and Sleeves