09/28/2021 - 10 min
How Custom Transfer Printing Trends Impact Your Adhesive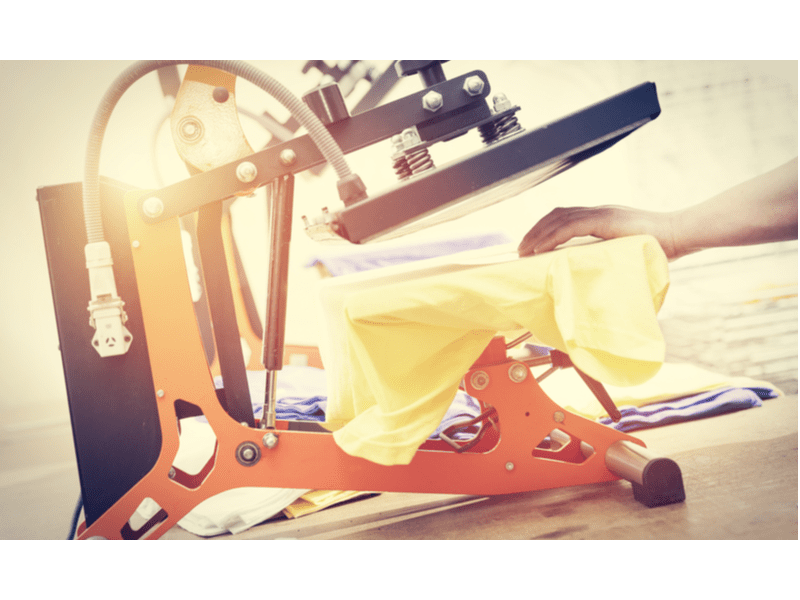 As consumers' fashion preferences evolve, textile manufacturers are tasked with addressing custom transfer printing trends for improved elasticity, increased output and enhanced functionality. For custom heat transfer manufacturers especially, this means ensuring their textile embellishments are ideal for personalizing garments and accessories in a quick and easy way to keep up with the evolving textile industry. However, to guarantee their printed designs meet consumer desires, it's important to understand how these trends impact their processes and how the right adhesive makes it easy to address them.
Trend #1: The Use of Silicone Inks
With rising demand for sportswear and comfortable clothes, textile manufacturers are using elastic materials and knits in their clothing designs more often. This has led manufacturers instead to consider silicone inks, as they meet these increasing demands in several ways:
High elasticity and stretch recovery – Silicone inks can be stretched multiple times without cracks to the design.
Durability – Silicone inks offer great resistance to UV sunlight and offer good chemical resistance.
Manufacturers have found silicone inks withstand some of the challenges they've discovered with other inks. While heat transfer printing with plastisol inks worked fine in the past on traditional clothing materials, they lack the flexibility needed to perform well on these more elastic materials. Second-generation water and solvent-based inks offer increased flexibility, but are not quite able to meet the demands needed to address fabrics' increasing elasticity requirements.
How the Right Adhesive Makes Addressing This Trend Easy
While silicone inks offer the ideal performance needed of the new clothing materials, their ability to meet these needs relies heavily on using the right adhesive during the heat transfer process.
Elastic copolyester adhesives offer excellent compatibility with silicone inks combined with high elasticity. As a result, cracking is mitigated, and design performance is preserved overtime. With good plasticizer and washing resistance, they make it easy for manufacturers to meet consumer durability demands.
Trend #2: The Rise of Direct to Film Printing
Textile manufacturers are also tasked with making clothing faster and more efficiently than in the past, while while managing more options of fibers, blends, cotton, lycra, etc. for their productions. Many heat transfer manufacturers are switching to a process called Direct to Film (DTF) printing. It helps keep up with higher volume output in several ways:
Versatility – Direct to Film printing allows manufacturers to transfer the film directly onto light and dark fabric without needing to pretreat it first.
Affordability – With the ability to use Direct to Film printing on a variety of textiles, manufacturers can reduce the number of process steps and keep costs down. It's also less expensive than Direct to Garment (DTG) printing.
How the Right Adhesive Makes Addressing This Trend Easy
While DTF helps heat transfer manufacturers address the trend, it's important that this process uses an adhesive that also offers reduced production complexity and increased bonding capabilities.
Thermoplastic polyurethane (TPU) powder adhesives are particularly suitable for DTF printing. By offering versatile bonding properties, manufacturers can use one adhesive across fabric types, which streamlines production processes and reduces costs Their softness and high stretch, combined with their resistance and wear resistance, make them the ideal choice for DTF transfers that will outlast the garment.
Trend #3: Heightened Desire for Water-Repellent (DWR) Fabrics
Manufacturers have also had to consider the growing popularity of outdoor sports along with rising utilization in protective wear. This has boosted the usage of durable water repellent (DWR) fabrics, but manufacturers must also consider the impact water repellency has on the material itself and challenges of getting designs printed onto it. Heat transfer manufacturers look for fabrics that must ensure all materials used in the printing process can be accommodated. The fabric qualities considered include:
Protective material – Water repellency requires fabric to have low surface energy, which means the surface is difficult for materials to wet out and form a proper bond. Durable water repellant fabrics are hydrophobic on the fabric's surface, which causes the water to "bead up" and protect whoever is wearing the garment.
Sustainable options - While perfluorochemicals (PFC) are able to accomplish water functionalities, many manufacturers are turning toward more sustainable options, such as chemical vapor deposition instead.
How the Right Adhesive Makes Addressing This Trend Easy
High-performance copolyamide adhesives make it easy for manufacturers to address this trend offering good adhesion properties to difficult-to-bond substrates, including low surface energy. With excellent cohesion and high wash and dry cleaning resistance, these adhesive powders are ideal for the most challenging heat transfer applications.
How Bostik's Adhesives Can Help
Bostik offers a complete range of specialty adhesives for transfer printing, including adhesive powders and technical hot melt films ideal for soft feel, good resilience and excellent processing that make addressing these trends and their impact to heat transfer processes easy.
Particularly suited for silicone inks, Bostik's range of high-end, flexible, copolyester adhesives ensure the transfer outlasts the garment. Combining copolyester migration resistance with outstanding elasticity, these solutions provide color stability and increase durability. Our high-performance, elastic, copolyester powder adhesives PES642V and PES595V are specifically designed for textile printing with silicone transfers, offering flexible bonding and a soft touch.
For Direct to Film printing, our high-performance, thermoplastic polyurethaneadhesive powders provide the required versatile bonding properties and extreme softness. In particular, TPU4073 and TPU4529 offer extreme softness and high stretch at respectively low and medium fusing temperatures.
Further, for more challenging substrates and extreme requirements, Bostik has developed high-end copolyamide adhesive powders. Showing good wettability and adhesion onto difficult substrates, they are ideal for custom heat transfers on Desire for Water-Repellant fabrics. In particular, high-performance copolyamide powders PA5424 and PA5420 show very good laundry, steam and dry cleaning resistance. Want to easily address textile trends and improve your heat transfer processes? Contact a Bostik technical expert today.
You can learn more with this relevant content:
What to Consider with Hot Melts for Heat Transfer Textile Printing