Aug 23, 2022 - 10 min
OVERCOME FREEZER GRADE PACKAGING BONDING CHALLENGES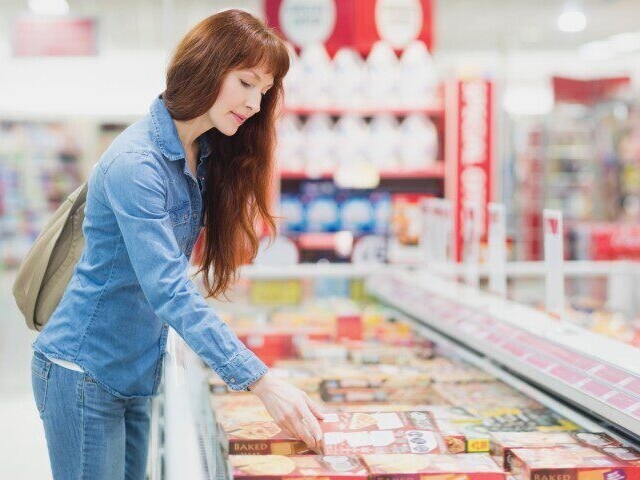 In recent years, the amount of frozen food consumers purchase has increased due to the ability to offer extended freshness, convenience and affordability. In fact, frozen food sales are up 26% since January 2020. Consumers also continue showing more interest in brands prioritizing sustainable packaging. Therefore, as brand owners work to keep up with rising demand, this means they are turning towards package converters to provide sustainable and durable solutions for freezer grade applications. However, achieving this goal for sustainable packages can be challenging. Specifically, converters must find an adhesive that enables them to manufacture a secure package at freezer grade temperatures while bonding to sustainable materials and without affecting production line speeds.
Fortunately, the right adhesive can make it easy. Find out how it can help converters overcome these challenges and meet brand owner demands.
CHALLENGE #1: MANUFACTURING A SUSTAINABLE, FREEZER GRADE PACKAGING
As converters look to manufacture sustainable freezer grade packaging for case and carton applications, it requires them to design packages based on recyclable board stocks, such as paper, as well as utilize sustainable coatings and inks comprised of water-based, biopolymers or mono materials. However, recyclable board stocks have shorter fibers than virgin board stock. These shorter fibers make it challenging for the adhesive to sufficiently wet out and penetrate the substrate. This affects the performance of the adhesive, especially at freezer temperatures.
In order to reach the desired performance in freezer grade conditions, the adhesive itself must be formulated so it can both adhere to recycled board stock and perform at low temperatures. If the adhesive is not designed to meet these needs, there is risk of pop-opens from inefficient bond strength, which costs converters extra downtime and increases facility waste. Pop-opens can reduce the package quality and protection, making it difficult for converters to deliver on sustainable packaging needs as performance isn't up to par.
Solution:
Fortunately, with the right adhesive, it doesn't have to be challenging to incorporate sustainable materials into freezer grade packaging designs. The right adhesive can provide high performance to difficult-to-bond board stocks, including recycled corrugated, even at extremely low temperatures, such as -20°F (-29°C). An adhesive designed to easily wet out and penetrate the substrate will form a strong bond, despite shorter fibers. Further, the right adhesive has a wide application temperature range from 300° to 350° F (149° to 176° C). This allows for increased application versatility, including at low temperatures. By offering these capabilities, the right adhesive helps reduce product failures, such as pop-opens. As a result, converters can spend less time dealing with quality and performance issues, allowing them more time to focus on ways they can produce sustainable packaging options.
CHALLENGE #2: KEEPING UP WITH HIGH OUTPUT DEMANDS
More converters rely on autofeed and melt-on-demand systems to gain improved efficiency and help brand owners keep up with increased frozen food demands. However, it can be difficult to meet these output needs with adhesives that offer a lack of processability or thermal stability. This is due to those adhesives causing production problems, such as adhesive stringing and nozzle clogging, which can result in added downtime. Additionally, different frozen food packaging options may require various production line needs, which can increase SKU complexities and make it difficult for brands to keep up with increasing frozen food demands.
Solution:
Formulated with good thermal stability and processability, the right adhesive allows for continuous equipment usage and less overall production maintenance. Specifically, as a water-white technology-based adhesive, it offers clean running capabilities for precise application and clean cut off. This results in fewer stringing issues compared to alternative options and reduced nozzle clogging, decreasing clean up times and saving on production costs. Further, the right adhesive offers a wide processing window, allowing converters to use the same adhesive with different substrates. This enables reduced SKU volume, resulting in facilities reducing storage footprints along with waste and downtime.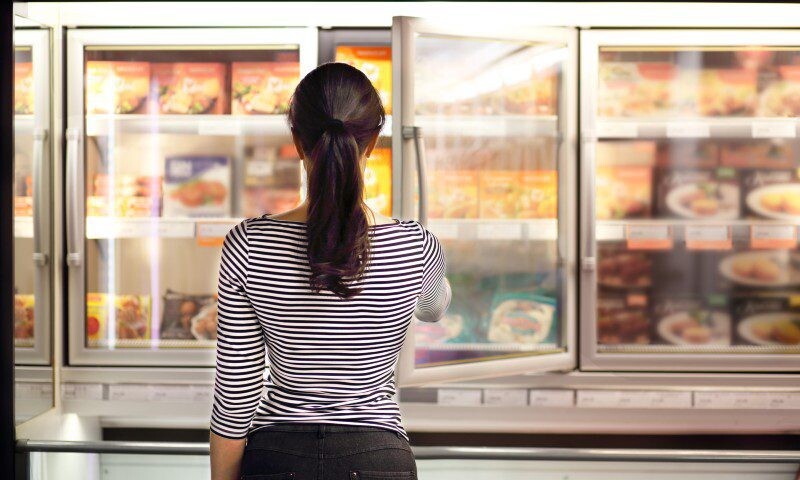 WHY CHOOSE BOSTIK'S FREEZER GRADE ADHESIVES TO OVERCOME THESE CHALLENGES
Bostik's freezer grade adhesives for case and carton applications make it easy to overcome these challenges and provide sustainable, freezer grade packaging at a fast rate.
Kizen® FREEZE, part of the Kizen product line, is specifically designed for freezer grade packaging. This adhesive provides high adhesion to sustainable substrates that may otherwise present extra challenges to adhere to in low temperatures. For example, Kizen FREEZE possesses the ability to wet out and penetrate recycled materials. As a result, converters are able to utilize sustainable board stock without performance issues. Additionally, it provides a high bond performance at temperatures as low as -20°F (-29° C) on sustainable board stocks, answering a market need that other competitors do not offer. Further, this adhesive utilizes water-white technology, providing precise dispensing characteristics for increased output and versatile usage. This can decrease cleanup and downtime efforts, helping converters manufacture more products at a faster rate. Additionally, its broad performance capavbilities enables it to work across production lines. This, in turn, reduces SKU volume while still broadening sustainable package design options.
Are you looking to overcome freezer grade packaging bonding challenges to better meet brand owner demands? Contact a Bostik representative to learn how Kizen FREEZE, the latest innovation in the Kizen product line, can help you strengthen bonding on sustainable substrates while increasing production efficiencies.
Learn more about the benefits of Kizen FREEZE:
Kizen® FREEZE Hot Melt Adhesives
How to Easily Meet Frozen Food Packaging Demands