Applications
Where products are used in wet areas like kitchens, bathrooms, swimming pools, abattoirs, cooling rooms, storage - and production rooms for food, mould growth can occur. As a result of temperature, humidity, soap residue and traces of fungi in the air mould can start growing on wet surfaces and is difficult to remove. This can happen on sealant joints. Mould can develop at a humidity of 60% and grow even faster at higher humidity.
The Bostik professional sanitary portfolio offers good and premium quality products that are all fully equipped with CE marking. Besides we can offer food save grades, speciality formulations for natural stone and marble substrates and of course also French A+ VOC certifications and some also come with the EMICODE and Finnish M1 certifications.
For more information we have developed the Sanitary brochure, where we explain the types of certifications as well as how a proper durable joint should be calculated. Our technical representatives are always available for you for technical questions and product recommendations.
Support & Explanation
For the application segment Sanitary, we've made for you a dedicated brochure where we explain in detail all certifications, the full portfolio and the do's and don'ts of our high end products. Also available on the website we offer a technical bulletin to explain mould growth and the prevention of mould. For more support, you can by using the product selector, find the most suitable silicone product for your application.
The product characteristics and performance of all these products is developed and optimised in close cooperation with professional caulking contractors. This is to ensure that the craftsman and consumer can apply a high quality product in the most convenient way with maximum results.
Discover our Products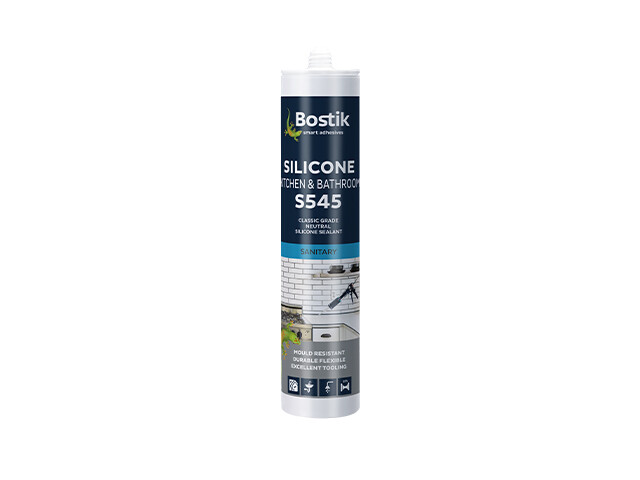 Bostik S545 SILICONE KITCHEN & BATHROOM
LOW MODULUS SILICONE FOR SANITARY AND KITCHEN APPLICATIONS
Discover more Sealing & Bonding