Applications
To meet your needs, we specialize in developing specialist chemical formulations whether they are large construction companies, professional tradespeople or home DIY enthusiasts.

Our products cover the full range of interior and exterior waterproofing applications, from basement tanking and under-tile for steam rooms, to roofing, groundworks and tunnels. Simple to apply and always safe to use, our waterproof sealants with the full range of porous backgrounds, including timber, concrete, brick, stone, metal and cement board.
Smart innovations
Our trusted waterproof sealants are at the forefront of interior and exterior waterproofing technology. Recognised products such as our Dampfix range for interior household waterproofing, our bituminous Black Paint and acrylic Flexacryl products for waterproof roofing repairs and our roller-applied Ultraseal polyurethane are all leading the construction and DIY industry in waterproofing solutions. 
Sealant technologies
Cementitious sealant 
Our cementitious sealants are ideal for working with swimming pools, basements other interior or exterior assemblies composed of tiling or tile-based substrates. We also produce cementitious products that are formulated specifically to combat positive water pressure.
Silyl modified polymer (SMP)
Our SMPs are acid-free and perfect for a wide range of waterproofing needs. Our silylated modified polymers are capable of bonding to the same variety of substrates as a standard silicone sealant, but possess a much higher bond and peel strength.
Bitumen sealant
Our bituminous sealant solutions possess excellent resistance to most salt solutions, water, alcohol, and dilute acids and alkalis. This makes them ideal for waterproofing, particularly for materials used on exterior applications like roofing materials.
Epoxy sealant
Our epoxy acrylic sealant technology is ideal for basement and water holding tank sealing.
Waterproofing interior; for protection against water pressures and the migration of moisture

There are many forms of interior application that require a fully waterproof sealant. Whether it's an industrial-sized assembly as part of a large construction project, or simply something for your home DIY efforts, we offer a range of technologies covering the extent of your waterproofing needs.
Waterproof sealant interior: sealant applications
At Bostik, we understand that not only is strong, secure waterproof technology important for large industrial installations such as swimming pools or chemical holding tanks, but also for domestic duties and assembly processes, such as basement damp-proofing. 
Our waterproof sealant products for interiors are designed and manufactured using the highest level of chemical expertise to stop water pressure and prevent any pools or leaks from forming. Our waterproof sealants also work to stop the rise of moisture through porous background substrates, the most common for this type of project being concrete, brick and stone.
Issues with most swimming pool installations arise when large volumes of water attempt to force their way through the wall of your construction space. Our cement-based solutions and acrylic sealant formulations are specially designed to stop this 'positive water pressure' from causing damage to your projects. 
However, if you are working on a subterranean installation, such as a basement, you'll need a solution aimed at preventing 'negative water pressure' - the process of water or moisture coming into your domestic space. 
It is important to not only select your waterproof sealant based on the need to protect against negative or positive water pressure, but also on the intensity of this water pressure or moisture migration. If you need advice on using Bostik products before applying your sealant, contact our technical support team.
Waterproofing Exterior; for protection against moisture damage and general degrading
No matter what the scale or purpose of your exterior construction project, waterproofing your installation is crucial to the longevity and durability of your build.  From large bridge structures and underground tunnels, to roofing a building, selecting the correct waterproof sealant that addresses the demands of your exterior construction is an important decision. 
At Bostik, we design and manufacture a variety of smart products to assist you with your project, helping you to prevent the ingress of moisture and degradation that often occurs over time to installations that are open to the elements.
If you would like technical support on the optimal solution for your exterior waterproofing needs, contact our experienced and knowledgeable technical support team for professional consultation.
Waterproof sealant exterior: sealant applications
At Bostik, our intelligently engineered sealant range is formulated for a variety of applications, so whether you are repairing a leak or waterproofing the exterior of a new building, you'll find a product suited to your individual needs.
If you are working on foundations or works below the ground such as tunnels and bridge footings, defending your installation from water ingress is crucial. Choosing the right waterproof Bostik sealant can prevent structural damage caused by the freezing, thawing and cracking of moisture pockets.
In order to achieve the highest compatibility with brickwork, blockwork, expansion and construction joints, our waterproofing technologies are specially designed to work with a multitude of substrates. Concrete, sand, cement, timber, metal and cement board are just some of the materials you can strengthen against weather and water with Bostik products.
Most of our sealants designed for exterior application are low modulus solutions, providing good levels of flexibility and elasticity. We also manufacture smart solutions that can bond to already wet surfaces, or sealants that are cured by the moisture in the air – these work especially well with surface membranes.
Some products specific to roof sheets, gutter sealants and similar applications possess fantastic slump resistance and boast a minimum lifespan of up to 10 years. In addition, all our sealants are highly durable, minimize shrinkage and odor output, and allow for carefree overpainting.
See more of our range of Waterproofing products.
Related products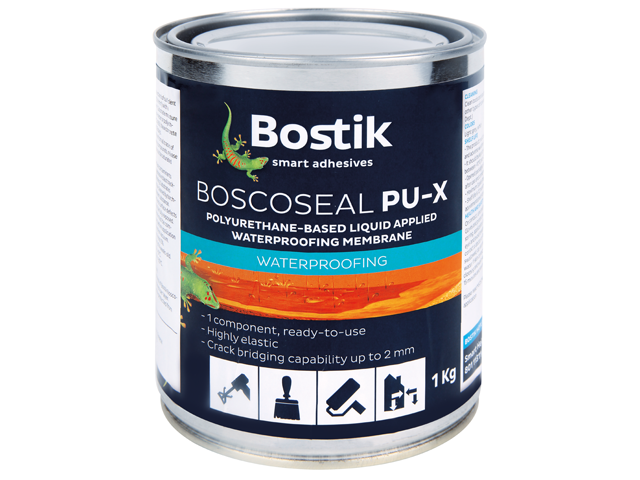 Boscoseal PU-X
POLYURATHANE BASED LIQUID APPLIED WATERPROOFING MEMBRANE
Discover more Building & Construction