Seal-N-Grip™
Hardwood Adhesive, Moisture Control & Sound Reduction Membrane
Product overview
Bostik Seal-N-Grip™ is a high performance adhesive, moisture control, and sound reduction membrane all in one. Its superior properties provide a tough, flexible, tenacious bond to a variety of surfaces, and it is not adversely affected by exposure to moisture, water or alkalinity. Seal-N-Grip™'s elastomeric characteristics allow the adhesive to move with the wood as it expands and contracts over the life of the floor. Seal-N-Grip™ exhibits exceptional green grab or high tack immediately after troweling, making installation easier and more secure. This adhesive contains 1% recycled rubber material, has zero VOC's (as calculated per SCAQMD Rule 1168), and does NOT contain any water. Seal-N-Grip™ contains Bostik BLOCKADE™ antimicrobial protection, which inhibits the growth of bacteria, mold, or mildew on the surface of the dried adhesive; the dried adhesive resists stains caused by mold.
Smart Advantages
One-step application reduces labor, time and cost
Moisture vapor & sound protection
Great for solid and bamboo flooring
Bostik Announces Launch of New Mobile App
Bostik has announced the release of its new Bostik Pro™ app, available for free on both iOS ...
Read more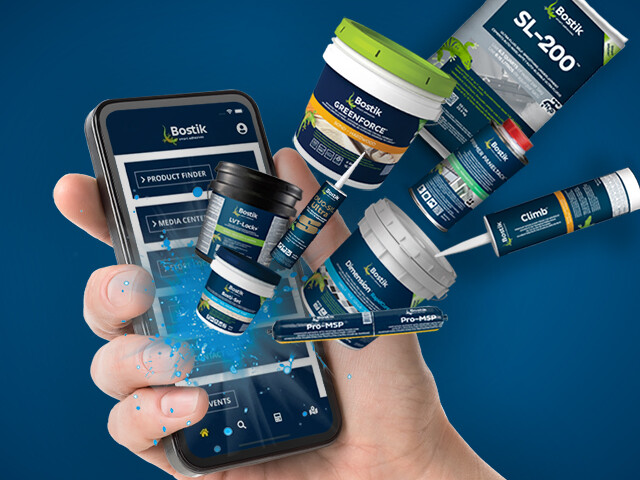 Bostik Seal-N-Grip™: Use Environments
Residential
Offices/Light Commercial
Heavy Commercial
Offices
Hospital
Substrates
Concrete
Plywood
OSB
Well-Bonded Vinyl
Terrazzo
Ceramic Tile
Cement Backer Board
Gypsum Underlayments (Dry, above grade)
Cement Patch/Underlayment
Flooring Types
Solid Hardwood
Engineered Hardwood
Bamboo
Cork
Parquet
Plywood
Ceramic Tile, Marble, Stone Inlays (Residential or light commercial only)