Mosaic & Glass Tile Adhesive Products
Mosaic & Glass Tile Adhesive Products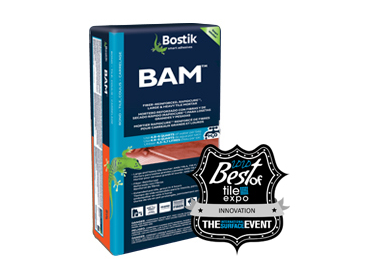 BAM™
Fiber-Reinforced, RapidCure™, Large & Heavy Tile Mortar
Adhesives for every mosaic tile installation
Our range of mosaic and glass tile adhesives are non-slip, mold and mildew resistant and waterproof once cured. Our products are easy to use and will bond to virtually all commonly used substrates.
Our mosaic tile adhesive is suitable for use in kitchens, bathrooms and outdoor areas subject to frequent and prolonged water exposure and for domestic shower walls and glass tile backsplash installations when applied using a solid adhesive bed.
For more specialized mosaic and glass tile adhesive applications, such as immersed locations including fountains or swimming pools, we provide an epoxy based adhesive solution.
Mosaic and glass tile adhesives: Substrates
Our mosaic and glass tile adhesives work with many different substrates across both wall and floor tile projects:
Drywall
Concrete
Plywood
Cement backer board
Ceramic tile
Waterproofing membranes
Uncoupling membranes
Mosaic and glass tile adhesives: Technologies
Acrylic-based
Cement-based
Epoxy
Waterproof
Polymer modified binders (PMB)
Bostik Academy is a knowledge center carefully created for professionals in the construction market.
At Bostik Academy you will experience a tailored training program that is perfectly matched to your needs.
Our highly skilled Technical Team will present our product portfolio, best application methods, and key industry recommendations. In addition, we are also able to offer tailored dedicated training to you and your team.
Just let us know!