Bosti-Set™
Thin Porcelain Tile Panel Adhesive & Sound Reduction Membrane
Product overview
Bosti-Set is a one-component, non-sag, easy to trowel adhesive that is specifically formulated for the installation of thin (gauged) porcelain tile panels on interior, vertical surfaces or counter tops. Bostik's patent pending Tenirex™ Polymer Technology used in this product is a revolutionary, proprietary formulation found only in Bosti-Set.
Geographic availability
Canada
United States of America
Smart Advantages
Non-sag, single-coat adhesive
No water or mixing
Thickness Control™ Spacer Technology
Gauged Porcelain Tile Installation Portfolio

Bostik Hyde Bellagio Project Spotlight

FloorScore Certification Registration SCS-FS-08383

Bosti-Set Health Product Declaration
Bostik to Aid NFCAP Train Flooring Contractors Nationwide
The National Flooring Contractors Apprenticeship Program (NFCAP), launched officially in 2020, ...
Read more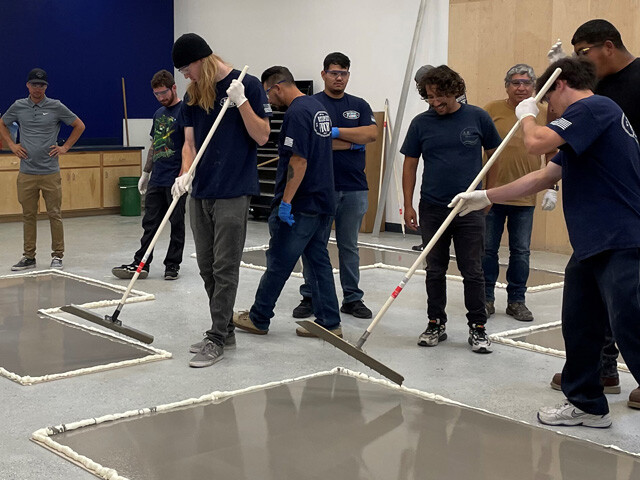 We've Escalated the Possibilities.
You Take the Credit.
Bostik's latest advancement in adhesive technology is found exclusively in Bosti-Set, Thin Porcelain Tile Panel Adhesive & Sound Reduction Membrane. Bosti-Set is a one-component, easy-to-trowel adhesive that revolutionizes how the design-build community works with thin porcelain tile panels. Backed by Bostik's patent-pending Tenirex polymer technology, Bosti-Set provides remarkable instant grab and holding power in a single coat application.
Use Bosti-Set on your next project to realize the following benefits:
Non-sag, instant grab of thin porcelain tile panels in sizes as large as 1/4" x 5' x 10' (6mm x 1.5m x3m)
Trowel only on the back of the panel, eliminating the troweling of mortar on walls
Installation time reduced by as much as 50%, with half of the crew typically needed for typical mortar installations
No mixing, no water, and no electricity needed to install the panels
Exceptional acoustic performance and long-term durability of the wall system
Installation materials that weigh up to 80% less than traditional mortar installations
The ability to position panels up to 30 minutes while still preventing sagging
With 2% recycled material, 0% solvents, and zero VOC's (Volatile Organic Compounds - as calculated per SCAQMD Rule 1168), Bosti-Set contributes toward LEED® credits under sections NC-v4 MR4.2: Recycled Content and NC-v4 EQ4.1: Low-Emitting Materials – Adhesives & Sealants
You can count on Bosti-Set to speed up the installation of your thin porcelain tile panel project.
We stick beneath the surface. We offer support. You take the credit.