Hardwood Flooring Installation
Our adhesive solutions make hardwood flooring installations faster, easier and smarter. From solid wooden floor adhesive to engineered wood adhesive, Bostik technologies are designed to improve wear characteristics, acoustic properties and comfort.

As wood becomes ever more popular, we continue to introduce cutting-edge technologies to meet the demands of your flooring projects. From parquet panels to solid wood planks, Bostik technologies are designed to improve durability, acoustic properties and comfort to enhance living spaces.
Applications
Bostik's hardwood flooring solutions are suitable for all installations where wood flooring can be bonded. Whether you are working with solid or engineered wood, our adhesives offer a range of benefits to reduce risk and improve performance. For example:
Engineering: mechanical features are engineered for superior adhesion, even on very wide wood planks.
Flexibility: our adhesive systems provide tough, flexible bonds with a variety of subfloor substrates including concrete, plywood, and fiber cement sheets
Elastomeric: elastomeric properties allow our adhesives to move with the wood as it expands and contracts over the life of the floor.
Sound dampening properties: our wooden floor adhesive create a noise reduction barrier over the substrate, providing excellent sound reduction performance.
Moisture resistance: moisture vapor protection prevents the cupping or buckling of hardwood planks
Low VOC adhesive: a strong emphasis on formulating adhesives with benefits such as low VOCs, emissions and odour without compromising bond strength and long-term durability.
Discover our brochure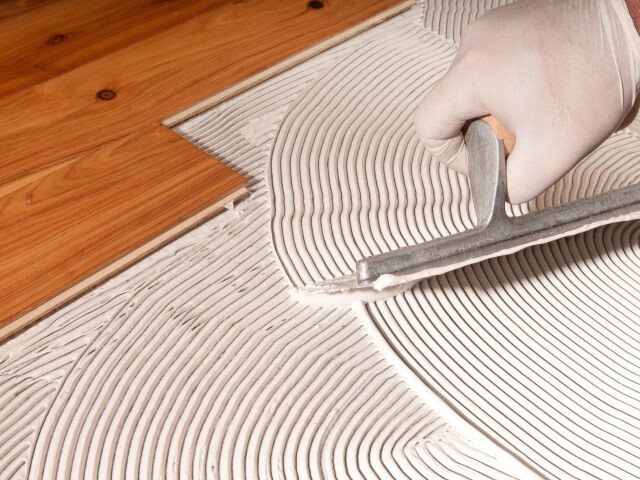 Discover more Wall and Floor