05/26/2021 - 10 min
Easily Address A New Floor Marking Tape Trend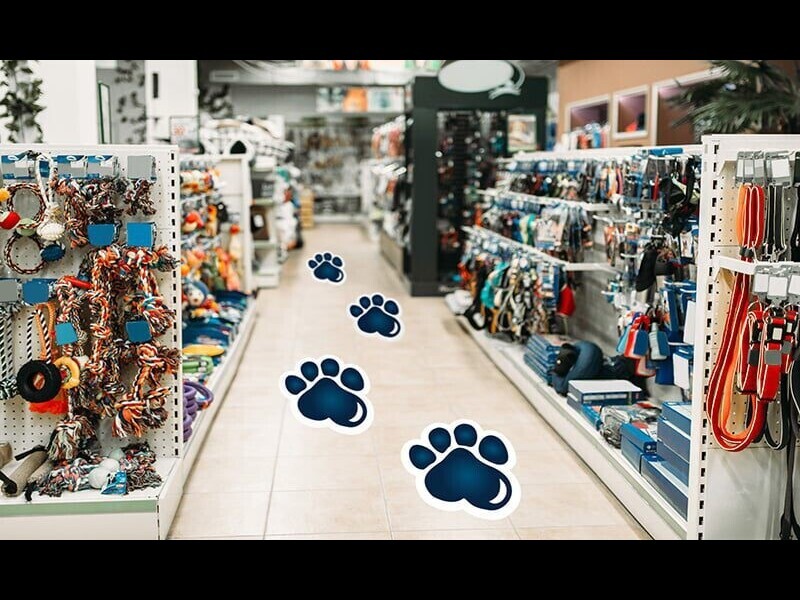 Floor marking tape has gained popularity for its ability to communicate important safety measures to consumers. Now, marketers and brand owners are also utilizing floor marking tape as an advertising medium. By printing brand or product information onto the tape, consumers can see the message as they walk through a building.
As this application gains prominence, it's more important than ever to ensure your tape adhesives exhibit key performance attributes. Learn how this new application may affect how you manufacture floor marking tape and ensure its adhesive meets necessary performance criteria.
How New Design Needs Affect Tape Performance Criteria
As floor marking tape evolves to provide advertising opportunities, your customers may demand more flexibility in their designs. They may look to use more color or imagery on the tape, making the printing process more complex. They may also want to explore new shapes to reflect their brand; for example, pet brands may desire tapes in the shape of paw prints.
To accommodate these changes and ensure it will perform well for advertising needs, your tape should be:
Customizable: The tape's backing should be able to feature a range of graphics and colors. You may also want to offer a variety of design shapes and sizes.
Durable: The tape should withstand heavy foot traffic without peeling, helping to maintain the advertisement's look and feel.
Versatile: Floor marking tape is used on many types of surfaces including tile, carpet and asphalt. Make sure your tape can adhere to these substrates, along with clean, dirty or shiny surfaces.
Removable: Some advertising campaigns may only last a short time, so the tape should come off cleanly after use.
How the Right Adhesive Makes It Easy
The right adhesive can help you easily manufacture floor marking tape that is ideal for advertising purposes. Your adhesive should provide:
Compatibility with your tape's backing and face stock: Your adhesive should adhere to your selected backing and face stock. If they are not compatible, it could result in poor functionality. This could affect your customers' brand image, even with innovative advertisement designs.
High cohesion: If the tape will encounter heavy foot traffic, deformation can occur, which can also impact the advertisement's appearance. Choose a durable adhesive that can withstand deformation.
Adhesion to various substrates: Your adhesive should be able to adhere to the tape's end-use environment. Select an option that will be versatile to many substrates, shiny floors, asphalt and other environments.
Clean removal: Ensure the adhesive will not leave a residue behind after the advertisement is removed.
Bostik's Thermogrip® 20060 can provide unique qualities that make it excellent for floor marking tape applications. Its high cohesive strength provides durability to resist deformation, while offering clean removal on numerous surfaces. Its wide temperature range also increases compatibility with many manufacturing systems, making it easy to implement into your process. To learn more about this adhesive or to request a sample, contact a Bostik representative today
Learn more with this other relevant content: