03/17/2022 - 10 min
Top End-User Misconceptions About Linerless Labels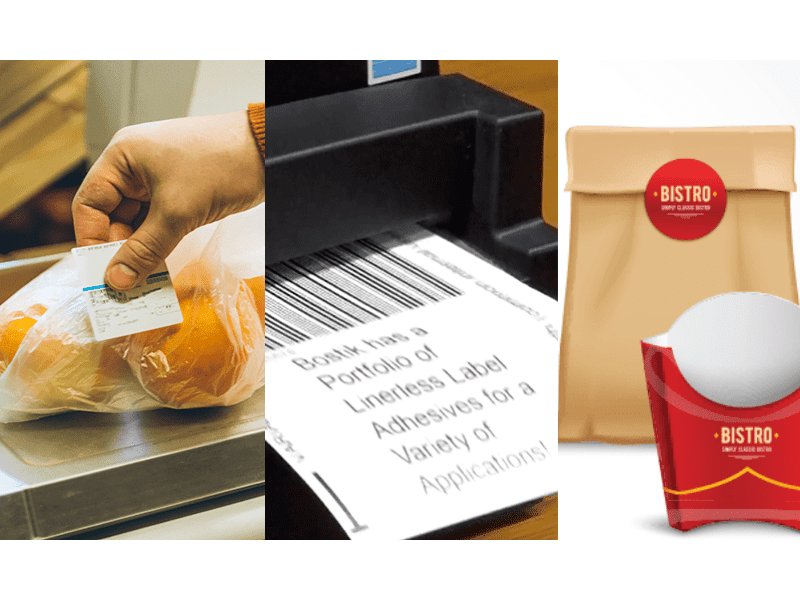 While linerless labels offer end-users several key benefits, some misconceptions may still be preventing them from wanting to use these labels. As a linerless label converter, this can be challenging. You know your product offers increased value compared to traditional, linered labels that will help their applications, but your end-users are still hesitant. Find out specifically what their misconceptions may be and how you can help get your end-users to overcome them.
Misconception #1: End-users think linerless labels that use hot melt adhesives cannot work in printers because they are too tacky.
With traditional labels, release liners protect adhesives from direct contact with surfaces in the printer. Since linerless labels lack a release liner, end-users may be concerned about hot melt adhesives sticking to the platen roller because they have high tack.
FACT:
When linerless labels use adhesives that are formulated with controlled tack, they can pass through the printer without jamming, yet build adhesion quickly to bond well in a variety of applications. As a converter, you can help end-users understand that with the right hot melt adhesives, linerless labels can be used successfully in direct thermal printers.
Misconception #2: End-users think linerless labels won't work for their application.
While linerless labels aren't new to the market, they still aren't being as widely used as they could be across markets. This is because many end-users are unsure whether linerless labels can meet their application needs and offer sufficient performance, given that they lack a release liner protecting the adhesive.
FACT:
Not only do linerless labels work across multiple applications, they even offer added benefits over traditional labels and can eliminate some important concerns associated with liners. As a converter, you can help end-users understand that linerless labels work well for:
Shipping: Linerless labels offer variable print length, so there is no need for the end-user to stock different size labels or waste unused label material when printing. This allows them to be used across a broad range of logistical applications, such as packing lists, parcel sortation and stacking lists.
Inventory Management: Linerless labels are well-suited for mobile printers and can efficiently create exact-sized labels without the need for added liner materials in the printer.
Food-related industries: Unlike with traditional labels, grocery store employees do not have to take time to pull a label off the release liner, simplifying the task of labeling items. Linerless labels also make back-of-house efforts run more smoothly because they can quickly adhere to to-go cups and food wrappers at quick-service restaurants.
Added Benefits Over Traditional Labels
Additionally, linerless labels offer added benefits over traditional labels for all these applications, such as:
Reduced waste production: No liner needs to be disposed of like with traditional labels.
Heightened worker safety: Liners can pose as a trip and slip hazard and are not an issue with linerless labels.
Increased labels per roll: There is no gap between labels like with traditional labels; more labels can fit per roll, which saves on storage space and transportation costs.

How Bostik Makes it Easy for Your End-Users to be Successful with Linerless Labels
Bostik has the expertise to ensure adhesives help end-users achieve ideal performance with their linerless labels. Bostik linerless label adhesives offer:
Efficient label printing: With controlled tack levels, Bostik adhesives can run well through mobile, desktop, high-speed or other types of printers. When jams and wraps are not a concern, output can be maintained in printing operations with linerless labels.
Broad performance capabilities: Bostik linerless label adhesives are designed with end-use application needs in mind, from label application method to environmental conditions. Whether auto-applied in fast-paced logistics or adhering at various temperatures in food service, these adhesives enable linerless labels to maintain performance needs.
Interested in learning more about how these adhesives enable your end-users to overcome common misconceptions? Contact a Bostik representative today
Here's other helpful content your end-users may like when considering linerless labels:
Four Ways Linerless Labels Help Sustainable Packaging
Can Your Shipping Labels Withstand Ecommerce Changes?
Can Your Label Application go Linerless?