PanelTack™ FoamTape™
Adhesive Tape and Spacer for PanelTack™ Wall Panel and Façade Cladding System
Product overview
FoamTape is part of the complete Bostik PanelTack wall panel and façade cladding system. It is a double-sided tape, used specifically for discreet bonding of façade and decorative panels and cladding systems for interior and exterior applications.
Geographic availability
Canada
United States of America
Smart Advantages
Provides the first adhesion on the façade panels while the adhesive cures
Ensures the proper adhesive thickness between the panel and the support structure
Ensures a strong adhesive bond
PanelTack Installation Guide

Gauged Porcelain Tile Installation Portfolio

PanelTack Smart House Ventilated Wall Cladding Panels Brochure

Bostik PanelTack Ventilated Wall Panel and Façade Cladding System Limited Warranty

Bostik PanelTack Limited Warranty Request Form
Bostik's PanelTack™ "Chemical Cladding" System Passes Highest Seismic and Fire Testing
Bostik has announced that the PanelTack System met the stringent requirements of the NFPA 285 ...
Read more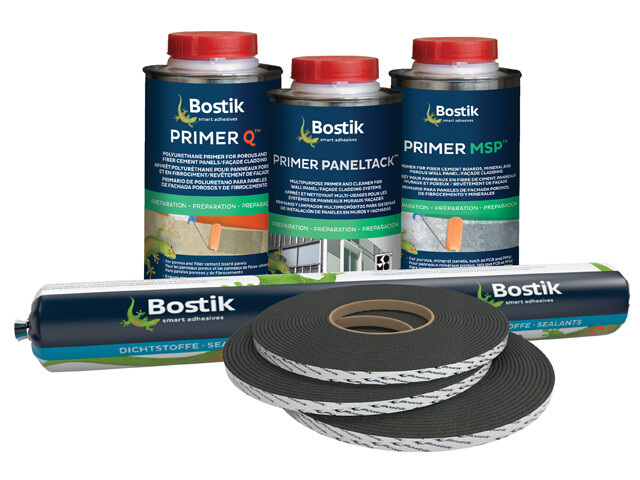 PanelTack™ FoamTape™ serves as a spacer for the adhesive bead, to ensure the proper adhesive thickness between the panel and the support structure. FoamTape™ provides an initial fixation of the panel or substrate until the PanelTack HM™ adhesive has cured, while ensuring a strong, lasting bond.
FoamTape™ is suitable for use with various panels and wall cladding materials, including gauged porcelain tile panels, high pressure laminate (HPL), aluminum composite materials (ACM), pressed mineral wool (PMW), fiber cement boards (FCB), concrete, porcelains, ceramics, porous substrates and other natural materials.
The complete PanelTack™ System includes Primer PanelTack™, PanelTack™ FoamTape™, PanelTack HM™ and other PanelTack™ primers. Please refer to each product's Technical Data Sheet for a comprehensive list of approved substrates.
Product Features
Designed for interior and exterior use Instant, high-strength bond
Easy to use
No drilling required
Discreet attachment method
Faster than mechanical fastening methods