Bostik New Zealand wants to contribute to Kiwi Builders' elective learning with the chance to earn LBP points, thanks to its silicone construction sealants range. View our presentation video or read below on how Bostik's silicone construction sealants range can benefit you and your building projects.
Earn LBP Points with Bostik's silicone sealants
Bostik New Zealand wants to contribute to Kiwi Builders' elective learning with the chance to earn LBP points thanks to its silicone construction sealants range.
Simply click here to complete the learning
BOSTIK SILICONE CONSTRUCTION SEALANTS
A sealant is a soft, pliable material that is used to seal cracks or joints where structural strength is not required.
Silicone sealants are a versatile formulation allowing for broad application. Bostik silicone sealants are available as acid-free formulations - ideal for more sensitive substrates such as concrete and natural stone or acetic cure to aid in better sealing between two surfaces.
Throughout the process of formulating our silicone sealant products, we not only strive to comply with the latest building codes and environmental standards, but also to ensure that our range of solutions continually meet the evolving demands of the field of construction.
Bostik silicone sealants form a tough, flexible rubber that can maintain its integrity for years and years. That means Bostik silicone sealants are perfect for sealing out water or weatherproofing to prevent costly degradation or damage to other materials around the home. Silicone sealants cure by absorbing moisture from the air to form a silicone rubber seal capable of extreme movement.
Read below about our range advantages or contact one of our technical team for more information on our silicone construction sealants range, or simply call 0508 222 272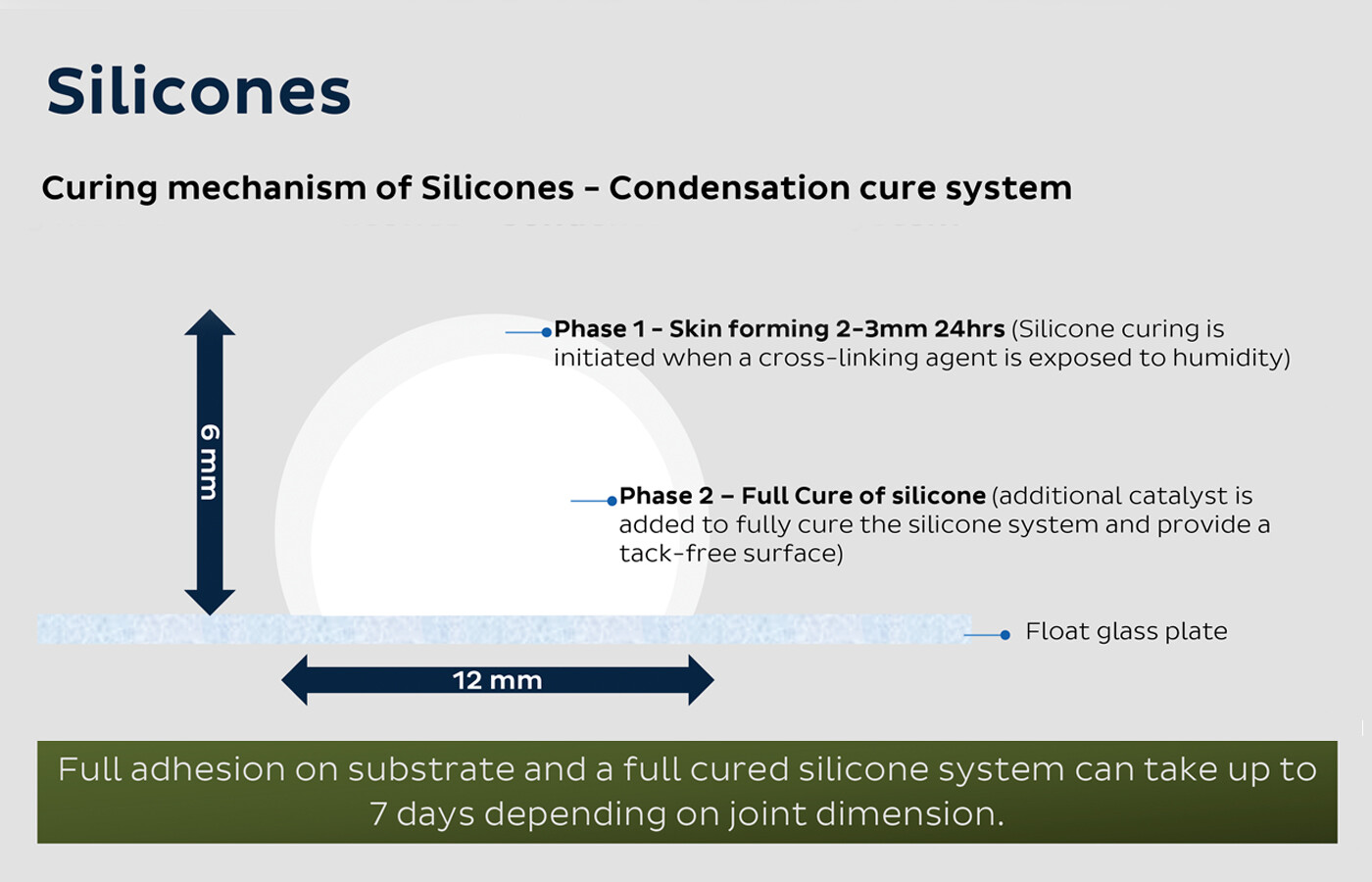 ADVANTAGES TO SILICONE SEALANTS
High elasticity and fast recovery
Extreme resistance to weathering (including UV) and ageing
Easily applied at all temperatures
Good to excellent adhesion
Good chemical resistance
Available in transparent
We can define silicone in two types:

1. NEUTRAL SILICONE
Excellent adhesion to a wide range of substrates
Not corrosive
No strong odour
However you should take into account that Neutral Silicone
has a tendency to discolour.
2. ACETIC SILICONE
Excellent adhesion on glass, painted wood, enamel and ceramics
Non discolouring in dark places
Longer shelf life
Faster curing
However it is worth noting that Acetic Silicone penetrates an acid odour,
it can only be used on limited applications and it has a possible corrosive effect on metals.
CURING MECHANISM OF SILICONES
Condensation cure system
Silicone curing is initiated when a cross-linking agent is exposed to humidity i.e. water, and is left with silanol group. The silanol further condenses on the polymer or cross-linker and continues until the system is fully cured
Silicone cures automatically at room temperature
The cross-link agent used in condensation curing systems are typically Acetoxy, Oxime and Alkoxy
In many cases, an additional catalyst is added to fully cure the silicone system and provide a tack-free surface
Currently tin catalysts are used in oxime and acetoxy cured systems. Other catalysts are used in alkoxy cured systems
Acetoxy tin condensation is one of the oldest silicone curing systems used for curing silicone rubber, and is used in the household bathroom applications.
IN SUMMARY
Phase One: Skin forms 2-3mm in 24 hrs (silicone curing is initiated when a cross-linking agent is exposed to humidity).
Phase Two: Full cure of silicone (additional catalyst is added to fully cure the silicone system and provide a tack-free surface).
Full adhesion on substrate and a full cured silicone system can take up to 7 days depending on joint dimension.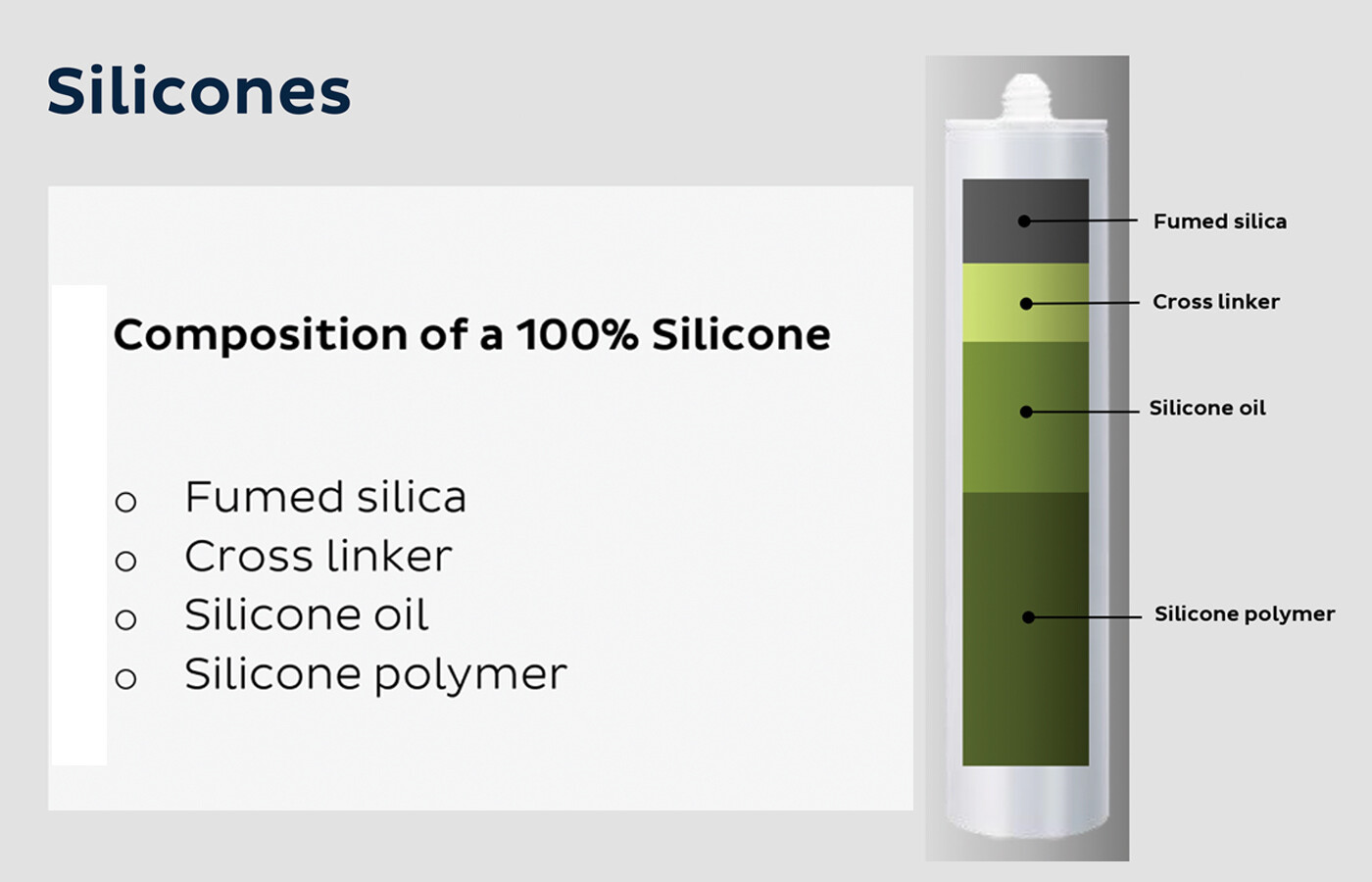 BOSTIK SILICONE SEALANTS
Roof & Gutter Silicone A premium one component, mid-flex, neutral curing 100% silicone roof sealant. This sealant provides excellent adhesion to many common substrates in general plumbing and roofing applications. Bostik Roof & Gutter is UV resistant and is unaffected by rain, snow or extreme temperature change. Roof & Gutter stays permanently flexible with ±25% Joint movement capabilities. Roof & Gutter is suitable for interior and exterior applications and can be used with steel, aluminium, glass, concrete, brick, ceramics and terracotta roof tiles.
Kitchen & Bathroom Silicone This silicone provides a permanently flexible waterproof seal. Designed for indoor application for the sealing of joints in wet and damp areas where resistance to the growth of fungus and mould is important. Being neutral cure, it will not corrode galvanised and zinc coated steel or attack concrete. It bonds to ceramics, glass, steel, aluminium, and most plastic and painted surfaces.
All Purpose Silicone A premium silicone sealant used for general purpose sealing. All Purpose has excellent UV and weather resistance, low odour and stays permanently flexible. It is suitable for Green Builds. Bostik All Purpose Silicone is ideal for sealing and adhering a range of building materials such as steel, metal, aluminium, timber, glass, concrete, fiberglass, brick and masonry.
Industrial Grade Silicone A neutral cure silicone sealant that is designed for sealing lap joints in metal gettering, aluminium roofing, flashings and downpipes. It can be used in general construction and Marine work.
V60 Silicone Sealant A premium grade, neutral cure glazing weatherproofing silicone sealant. Bostik V60 has UV and weather stability, maintaining reliable, flexible and durable elastomeric sealant by absorbing atmospheric moisture as it cures. It is suitable for all types of glazing and waterproofing.