May 22, 2023 - 6 Minutes
Importance of PanelTack™ Façade Cladding Solutions in Higher Education Projects | Bostik Blog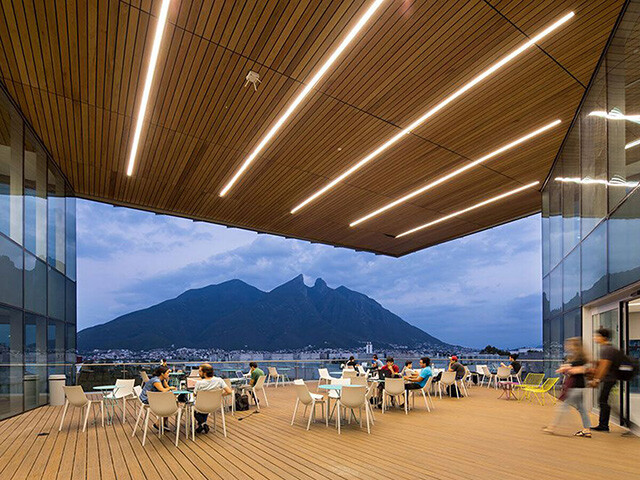 Investing in the campus is an excellent way to welcome and recruit the new generation and show students they are valued. Innovative design and installation solutions make refurbishing a campus faster and easier than ever — and without putting too big of a dent into that tight budget.
Students understand the importance of choosing the right major, picking the correct courses and making the best decisions early on to set themselves up for future career successes.
But finding a supportive learning environment is necessary to cultivate and motivate a student towards bigger and better things.
Many universities must constantly evolve, expand and add new amenities and buildings to attract the next class. Older universities are also looking to update or refurbish their current out-of-date structures but need to do so in a way that does not disrupt their learning environment.
"Curb appeal" may not seem like it would be the first thing on a student's mind when applying to universities, but how a campus looks and the amenities it has to offer play a huge role in where they ultimately decide to go. Students want a campus that feels welcoming to them and where they see their own values reflected back to them.
Students also want to be in an environment where they can thrive. Community study spaces, recreational areas and modern-day features will make a student feel connected to the campus and promote a better learning environment.
However, the design of a building goes beyond aesthetics and function: A carefully-crafted concept can communicate the mission and vision of the university. Glass-paneled walls promote visibility, openness and community. Natural lighting and organic materials like timber and landscaping encourage physical and mental wellbeing. Unique textures, shapes and colors inspire innovation and channel creativity.
Sustainability-focused designs demonstrate the importance of leaving behind a positive, generous and long-lasting legacy for future generations to look up to. More and more universities are looking for ways to minimize their environmental footprint and have a positive impact going forward. And more and more students are choosing their school based on their transparency around sustainability efforts.
The most valuable, sustainable and effective exterior solution for new and pre-existing buildings is a ventilated façade system.
With this system, there is a physical separation between the decorative façade exterior and the interior structural wall of the building that strategically slows for a host of benefits, including better thermal and acoustic insulation, building protection and easy maintenance.
That separation between façade and structure creates a ventilated cavity for air to flow through, generating a "chimney effect." This means the building will stay cool in the hot months and warm in the cold months, reducing HVAC use and energy consumptions.
The ventilated cavity also provides an opportunity to easily update an existing structure without damaging any of the external walls. The separation created a protective chamber that can house additional electrical and plumbing utilities, so necessary updates can easily be accomplished.
The design options are virtually endless when using a ventilated façade system. The cladding can be made from a range of materials, including ceramic, High-Pressure Laminate (HPL), porcelain and aluminum. The panels can also come in a range of shapes and sizes to create something either uniform and timeless or something more experimental and playful.
A façade cladding system allows a structure to blend in seamlessly with the surrounding buildings or become a stand-out feature on campus depending on its design concept and purpose.
The façade panels are also incredibly easy to install. And when using the right methods and tools, installation can happen in a tight timeline and with minimal disruption to building occupants.
Bostik's PanelTack Adhesive System is the solution to effortless and discreet ventilated wall cladding installations. It is quick, durable and more effective than mechanical alternatives.
Traditional installation methods include mechanical fasteners that require drilling into the panels and support structures. This process is loud, time-consuming and can result in weakened or broken panels.
PanelTack is a homogenous, highly elastic and smooth adhesive, suitable for use with various panels and wall cladding materials. There is no drilling required, no electricity required on-site and no special power tools needed.
Because there is no drilling, the wall panels remain whole and uncompromised. This also means thinner wall panels can be used — saving you money on material costs.
PanelTack is a discrete attachment method for a perfectly seamless, aesthetically pleasing look with no unsightly screws.
PanelTack is also more durable than traditional alternatives. The elastic adhesive is more resistant to vibrations and tremors, and it creates a bond that is able to absorb pressures and tensile forces due to wind. Even when using mechanical methods, it is advised to also use adhesives for extra protection and favorable stress distribution.
Installations using adhesives are quick and quiet. Projects that use the PanelTack Adhesive System are completed in a fraction of the time with fewer laborers than it would take to use mechanical methods. And since there is no drilling, there is no noise or dust to disrupt occupants or the surrounding environment. In fact, the building can still be used with minimal inconvenience to faculty, staff, and students during installation.
It only takes three simple steps to fix cladding using adhesives.
Prep the substructure and panels by wiping away any dirt, grease or residue.
Apply the included Primer PanelTack™ with a brush or roller.
Apply the PanelTack™ FoamTape™ and adhesive and firmly press the panel into place.
It's quick. It's easy. It's clean. And it is the most effective bonding solution for wall cladding.
Advanced Solutions for Higher Education
Not all universities can afford to shut down completely for remodeling and want to avoid disturbing their cultivated learning environment. For those looking to keep the campus open to students, staff and faculty while updating the area, Bostik's discreet adhesive system is the perfect solution.
Bostik's PanelTack System has already been used in a number of higher education building projects, especially in situations where time and budgets were tight.
Even higher education campuses looking for extra strength and durability favored PanelTack over or in combination with mechanical alternatives. Bostik's PanelTack adhesive shows exceptional strength in conditions of seismic tremors, heavy traffic and extreme wind load, as proven by the successful passing of AAMA 501.6 Seismic Test Method, and fire stability and resistance with the NFPA 285 Standard Fire Test Method.
Bostik's Proven PanelTack System
Bostik has been a leader in the field of wall cladding and panel bonding with the PanelTack System for more than 30 years, with proven performance to highlight our knowledge, experience and innovation on a global scale.
If you are interested in how PanelTack can elevate the design and execution of your next higher educational building project, please reach out, and one of Bostik's expert representatives will be in touch.
Learn more about Bostik's PanelTack