Slab-Cote™
Extreme Moisture Vapor Barrier Coating
Product overview
Bostik Slab-Cote Extreme Moisture Vapor Barrier Coating is a single coat, two-component, 100% solids, epoxy formulated to dramatically reduce moisture vapor transmission and surface alkalinity from substrates. Slab-Cote passes ASTM F 3010-13, moisture mitigation system for use under resilient flooring. It has 0 VOC's (as calculated per SCAQMD Rule 1168), low odor and is solvent-free. Slab-Cote's™ unique formulation displays a gel-like end of pot life indicator. Material left to cure in the pail will get hot, but will not smoke excessively.
Available sizes
1 gallon kit
2.5 gallon kit
Smart Advantages
Single coat, rapid cure, 100% solids epoxy formulation
For use on properly prepared concrete - even green
Dramatically reduces moisture vapor transmission & PH levels from substrates
Bostik Announces Launch of New Mobile App
Bostik has announced the release of its new Bostik Pro™ app, available for free on both iOS ...
Read more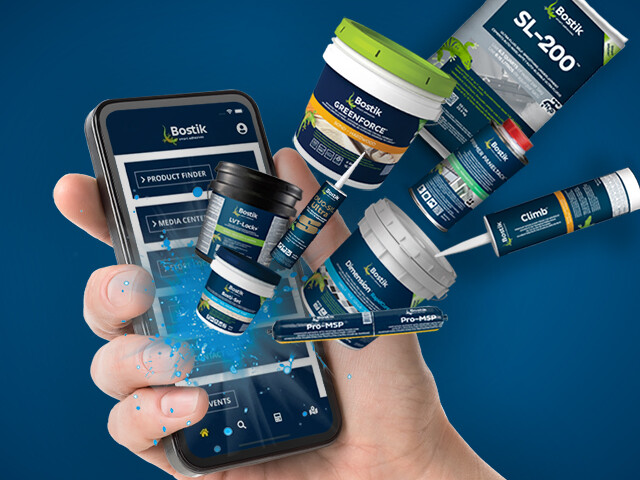 Bostik Slab-Cote™: Use Environments
Residential
Offices/Light Commercial
Heavy Commercial
Offices
Hospital
Wet Areas
Substrates
Below
Concrete
Green Concrete
Cement-based Terrazzo
Above
Gypsum Underlayments (Dry, above grade)
Cement Patch/Underlayment (After Universal Primer™ Pro)
Flooring Types
Hardwood
Sheet Vinyl
Luxury Vinyl Tile
Cork
Carpet
Porcelain
Ceramic Tile, Marble, Stone