WHAT IS A PRIMER, AND WHY IS IT IMPORTANT?
Primers are materials used as a preparatory coating to enhance the adhesion of overlaying compounds. They regulate the absorption rate of porous substrates, and improve adhesion to non-porous materials.
It's important to use the appropriate primer designed for the material, to ensure good bonding to these substrates. Failure to do so can lead to de-bonding of coverings.
POROUS SUBSTRATES
A porous or absorbent substrate will allow a bead of water to easily soak into and wet out the surface of the substrate.
Primer must be used prior to adhesive, sealant, waterproofing and leveling compound application to avoid pinholes.
Concrete that is overworked or burnished at the time of placement can become non-porous when cured. Mechanical abrasion, such as captive shot blasting or vacuumed grinding is required to open substrate pores prior to the application of a prime.
NON-POROUS SUBSTRATE PRIMERS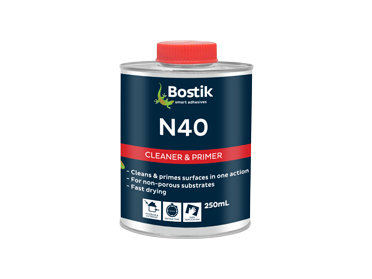 N40 PRIMER
Promotes adhesion to non-porous substrates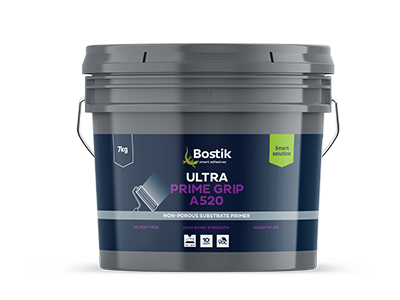 ULTRA PRIME GRIP
One-component primer for cementitious products
NON-POROUS SUBSTRATES
A non-porous or impervious substrate will cause a bead of water to be retained on the surface of the substrate as a raised droplet. The droplet does not easily soak into the surface of the substrate.
Bostik Prime Grip is an ideal general-purpose primer for non-porous surfaces.
Bostik N40 is best for rigid plastic and metallic substrates such as uPVC drainage outlets and penetrations, aluminium angle water stops, brass tap bodies, copper or galvanised penetrations, stainless steel drains & gutters etc.
MOISTURE VAPOUR BARRIERS
Moisture vapour barriers prevent moisture from diffusing into your substrate which can cause timber boards to 'pop'. They should be used when rising damp is an issue, and can be used on concrete, fibre cement, stone, masonry, structural plywood, metal, and brick.
DISCOVER OUR FLOORING SYSTEM PRODUCTS