Waterproofing is a vital part of any job where water could affect the outcome of your wall or floor installation. By making an object or structure waterproof or water-resistant, it remains relatively unaffected by water, or resists the ingress of water under specified conditions.
Typical of areas that require waterproofing are laundries, shower stalls, bathrooms, kitchens, swimming pools, and spas.
Our waterproofing technologies ensure that your installation is protected from unwanted water penetration, with products that have crack isolation and sound reduction properties.
WATER-BASED MEMBRANES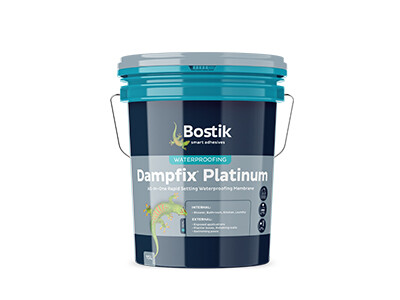 DAMPFIX® PLATINUM
All-in-one rapid drying water-based membrane
DAMPFIX® GOLD
Ready-to-use, highly elastic, Class 3 waterproofing membrane
WATER-BASED MEMBRANES
Water-based waterproofing membranes are easy to use, non-toxic and non-flammable.
These products are ideal for domestic and commercial applications, can be applied with a variety of tools, and are compatible with all Bostik tiling adhesives and flooring adhesives
CEMENTITIOUS MEMBRANES
Cementitious waterproofing membranes are highly versatile, durable and flexible. They can be used for a wide range of waterproofing applications including internal/external wet areas, immersed areas, and belowground*.
Cementitious waterproofing membrane has great adhesion to concrete, cement rendered masonry and fibre-cement sheet, and provides a uniform colour and texture similar to mortar.
*Ensure the correct product/system is used for belowground application as the membrane will need to withstand negative hydrostatic pressure.
POLYURETHANE MEMBRANES
Polyurethane membranes cure to form an elastic waterproof seal that is free of seams to prevent moisture or water to leach into the surface.
They have high adhesion to concrete, and excellent crack bridging capability at 3mm.
BOND BREAKERS
While they might seem like a small and insignificant part of the job, bond breakers are important to the overall integrity of the waterproofing process.
A bond breaker, as stated in Australian Standard 3740 is a "system that prevents the membrane bonding to the substrate, bedding, or lining". It breaks the bond between the substrate and waterproofing membrane to create an elastic 'bridge' that can stretch as buildings flex and move. This adds further protection to surfaces from water damage.
There are several bond breaker options to choose from, depending on the Dampfix waterproofing membrane being applied. These include neutral cure silicones such as our Bostik 6S, the Dampfix Bandage tape applied under the first layer of wet membrane, or our Bostik Seal N Flex Advance polyurethane sealant.
A bond breaker or bandage fillet is required at all floor and wall junctions and joints between compressed sheeting as per AS 3740-2010 and AS 4652.2-2009.
DISCOVER OUR FLOORING SYSTEM PRODUCTS