Bostik 83211C
General purpose brushable contact adhesive
Product overview
83211C is a general purpose brushable contact adhesive and has the widest general application. It can be used as a cold contact adhesive or is capable of being heat reactivated for up to 6 weeks from the time of initial application.
This adhesive has found widespread use in the Footwear, Automotive and Joinery industries. Typical materials being bonded with this product include polyurethane foams, supported PVC coverings, leather, polyester, glass fibre, rubber sheet, metal, chipboard, wood, and hardboard.
83211C is of particular use in the Footwear industry and can used to bond most materials used in shoe assembly. The exceptions are the synthetics, polypropylene, polyurethane, PVC and TPR. Production of sandals, slippers and casual wear shoes having EVA, micro rubber or resin rubber soling using cold contact methods is most easily achieved using this product .
Where to Use
Substrates
Footwear
Automotive
Joinery Industries
Materials
PVC
Leather
Polyester
Glass Fibre
Rubber Sheet
Metal
Chipboard
Wood
Hardboard
Smart Advantages
n-hexane solvent safe
High heat resistance (100C+)
High early green strength
Related products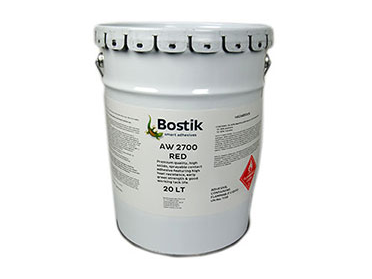 AW 2700/2701
AW 2700/2701 Contact Adhesive is a premium quality, high solids, sprayable contact adhesive, featuring high heat resistance, good sprayability, ...
BOSTIK 1669
Polyurethane adhesive especially suited for the footwear industry