Prepare for faster, smarter flooring installations
Our subfloor range provides a full system including; damp proof membranes, primers, screedsn subfloor repair mortars and self-levelling compounds, which have all been developed to enable the modern flooring contractor to overcome the many challenges found on sites today. Effective subfloor preparation ensures the highest quality floor finishes. Even the best design and flooring materials will have a poor result if the subfloor is not properly prepared. These easy-to-use solutions combine to accelerate floor preparation, helping you achieve faster, smarter, more secure installations.
Applications
Bostik products are formulated to meet the most demanding projects, whether you need smoothing for floor coverings that telegraph the slightest surface imperfections, crack bridging or crack isolation for durability and longevity, or a membrane for excessive moisture. That is why you will find Bostik technologies under the floors of some of the world's most iconic buildings.
Subfloor preparation applications 
Floor primer
Applying the right floor primer can vastly improve adhesion of leveling compounds to subfloors, resulting in a more secure installation. Floor primer also enables self leveling compounds to perform as designed, maximizing flow and providing optimum strength development.
The correct application of a suitable floor primer helps control the absorbency and drying rate of your flooring adhesive, and increases overall bond strength. Plus, priming significantly reduces drying shrinkage and improves resistance to water, shock, frost and chemical damage. Read more. (link to product page 'other floor preparation products')
Floor Surface Membrane
We understand that flooring installers need to supress moisture as quickly as possible before applying primer, smoothing compound and floor coverings. This is especially true with project work in hospitals and schools, where installation deadlines get ever tighter. That's why our vapor barrier systems have fast cure rates that accelerate the construction process, allowing the application of a full flooring preparation system faster than ever before.


Smoothing Compound
To achieve a smooth base for your floor covering, you need a flexible, fast-curing solution that works with a range of substrates.
To obtain the best results, a smooth and solid finished resilient floor, the self-leveling underlayer is an absolute necessity. Our innovative self-leveling compounds are designed to save flooring contractors valuable time and money. With low dust, low odor and walk-on times as short as two hours, Bostik products are the smart choice for your subfloor preparation. 
Floor leveling compounds: smart benefits 
Our free-flowing, self-smoothing compounds offer plenty of benefits to help you tackle the many challenges found on sites:
Easy to use: excellent flow characteristics make Bostik self-leveling compounds easy to use and most are pumpable
Fast-curing: our compounds contain a rapid setting formula, which accelerates floor preparation
Flexibility: Bostik subfloor products are ideal for a wide range of substrate applications, from concrete and sand/cement screeds to stone, rigid metal and wood
Fiber reinforced: many of our compounds are reinforced with fiber for crack bridging and flexibility 
Polymer modified: our cementitious compounds have high polymer content for excellent adhesion strength
Protein free: many of our compounds are suitable for use in occupied and hygiene-sensitive areas where minimal odor is required.
Download our brochure: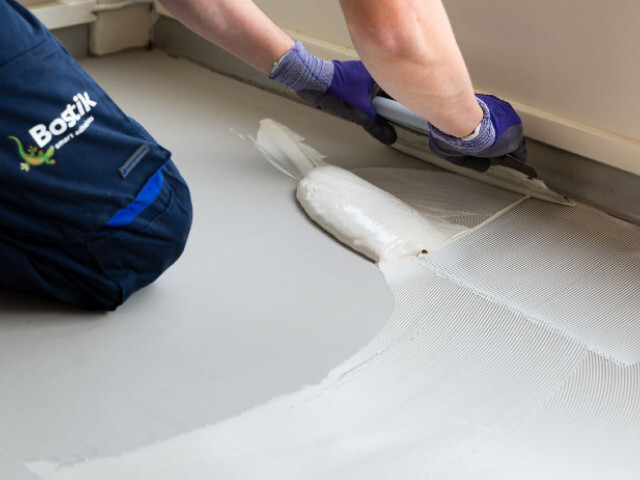 Discover more Wall and Floor