THE SMART HOUSE: IMAGINING LIFE INSIDE
The idea behind the Smart House is to reproduce various scenarios from the daily life of a typical family, for example, and analyze the collected data to see how buildings and materials impact the way people live. The remote-operated Smart House reproduces everyday activities using automated devices and robots. To achieve this, programmers used algorithms to recreate a typical family of five comprising two adults, two children and one senior (and a dog). Researchers use the Smart House's home automation system to simulate the family members, who breathe and give off heat. They can also operate the washing machine, turn on the water in the shower or bath, switch on the lights, open the windows, and perform other everyday tasks. The family members are represented by Altuglas figures.
EXAMPLES OF APPLIED RESEARCH
The Smart House serves our ambition to better understand four focus areas of the home (Environment, Energy Efficiency, Comfort, Health) by providing a full-scale testing ground for applied research in the following areas: (scroll through the house below). In all cases, researchers can observe how the materials and components of the house interact with each other, measure these interactions and make use of the findings.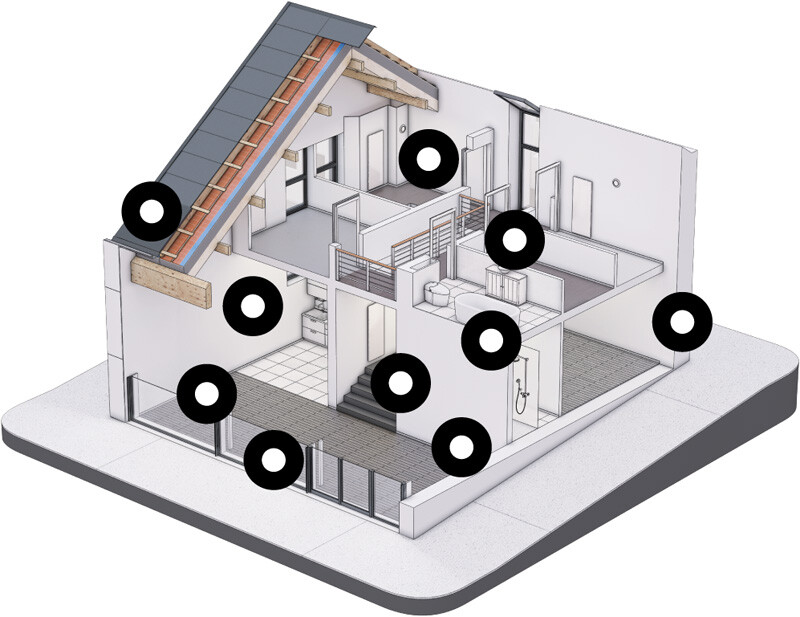 R&D EXPERTISE ON EVERY FLOOR
The Smart House is a life-size laboratory for the Arkema Group's researchers and scientists. Designed as a collaborative, forward-looking platform, the Smart House has also been made accessible to the Group's scientific, academic and corporate partners to ensure that each focus area benefits from a comprehensive R&D approach, from making hypotheses, testing them in full scale, collecting scenario data, understanding the findings and innovating. The Smart House research program is open to all Group researchers, from technology and molecule specialists to solution and end-product researchers and technical experts.
A SMART, PASSIVE HOUSE
In the process of obtaining dual environmental and thermal certifications
Southern exposure for passive use of sunlight
High performance windows and glazing; U-value = 0.8 W/m2K
Airtight envelope; n50 air leakage < 0.6 h-1
Energy recovery from outgoing air >75%
High performance home automation system (sensors and automated devices) spread over 160 sq.m.
Connected home