The pre-compound core design is mainly found in disposable hygiene articles produced and used in China.
These cores do not use cellulose fluff. Instead, compound and pre-compound cores are made by layering superabsorbent polymer (SAP) within layers of tissue and high loft synthetic nonwoven fabric. A core adhesive is needed to hold all of these layers together and keep the SAP particles contained. For pre-compound cores, this is done offline, before the cores are moved in boxes or rolls to the production line. Compound cores are created inline.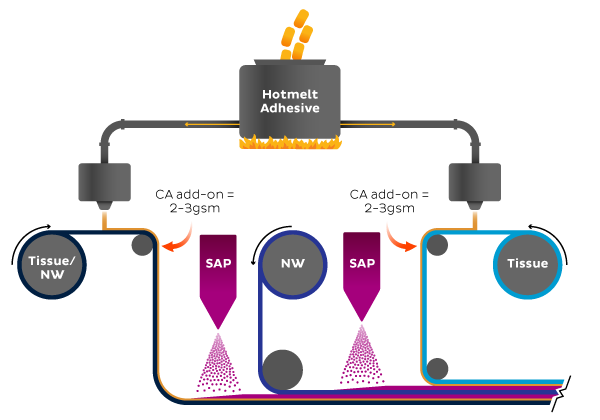 The primary advantages of the compound/pre-compound core are:
Thinner profile
Excellent integrity when wet
Simplified production due to being fluff-free
With the compound/pre-compound core, manufacturers avoid the cumbersome and tricky stage of fluff defibrillation and SAP mixing. In addition, going fluff-free can eliminate the need to ship a bulky raw material from one region to another. Both factors can be especially helpful for start-ups entering the industry.
Conversely, the compound/pre-compound core has poorer wicking abilities. This is because the nonwoven fibres are synthetic and do not have the wicking properties of cellulose. Another drawback: The SAP loss can be greater due to shaking and movement during the core's production and transport. Because the compound core is produced inline, shipping is avoided, and the SAP loss is low-er.
Using synthetic nonwoven fibres instead of cellulose fluff may simplify the supply chain, but there is a disadvantage as well. Compound/pre-compound cores can be expensive to make because they may require slower line speeds for production.

I want to learn more about the pre-compound and compound core designs from a Bostik expert.
> LET'S TALK
Discover More about Absorbent Core Trends